How can we mitigate the negative effects of colorism to increase self-worth in university students on a global scale?

Background

Colorism is a serious mental health concern that affects 2/3 of thee world's population. One of the most common manifestations of colorism is skin bleaching, which is a 8.9 billion dollar industry. Another form is through double-eyelid surgery, a popular manifestation of colorism in Asian communities where girls as young as 13 will fly out to pay thousands of dollars to enlarge their eyes.

Through 4 phases, we decided to implement a self-initiated 2-year research, entrepreneurial, and social impact project by partnering with the University of Ghana and the University of Texas at Austin to conduct qualitative research in both environments and run social campaigns from that research.

We were funded $25k by the President's Award for Global Learning to do this project.

Purpose
Our goal was to understand how people's deeply embedded perceptions, beliefs, and values about skin color hairstyles, and features influenced their decisions rather than predicting their behaviors. We decided that qualitative research methods were the most appropriate method to provide insight into tacit social phenomena. In-depth interviews conducted in a familiar and private space can give research participants the liberty to express their experiences and thoughts.
Target

We targeted university women because during the ages 18-25 are when identity and sense of self begins to form. Additionally, colorism is a more gendered issue due to societal beauty standards for women.
Approach

We saw that colorism had been tackled in a siloed manner for communities of color, but never approached from a global perspective. We focused on looking at this issue from the standpoint of collective impact because we recognize that colorism is a complex, multifaceted issue. By hearing the stories of other communities of color, we are able to learn more about ourselves.

We compared and contrasted research findings of UT students with UG students to learn cross culturally how colorism is manifested globally.

We chose Ghana as our country of interest because they already started the conversation around skin bleaching by placing a ban on hydroquinone, a chemical skin-lightening agent, in 2016. We were curious to see how effective it had been and how the perceptions around skin bleaching had or hadn't changed.
Methodologies–Who to Interview?
First, to prove that we had the right questions and methodologies we went through IRB training and a few rounds of pre-test interviews.
UT

In pre-test interviews we found that the LatinX community at UT had too many segmentation factors for the scope of this project, so we focused on Asian Americans and African Americans students. In total, we conducted 7 African-American and 13 Asian-American in-depth interviews that ranged from 30 minutes–2 hours long.

Ghana

University of Ghana Women
We chose the University of Ghana, Legon Campus because it is one of the top universities in Africa. In total we conducted 24 undergraduate women and 3 graduate women in-depth interviews that ranged from 45 minutes–1 hour and 30 minutes long.
Local Fishing Community in Chorkor
In many of our interviews we heard about mothers lightening their babies' skin in local communities. We wanted to expand our segment to get a better understanding of colorism outside of the academic and scholastic environment so we conducted interviews at a local fishing community in Chorkor. In total we interviewed 8 women and 4 men of varying age groups between young adults to middle-aged.
University of Ghana Men
From our female interviewees, we consistently heard that women perceived that men influenced them to bleach their skin because the men perceived that women would become more attractive if they had lighter skin. We expanded our sample to include men to understand their perspectives related to female beauty. In total, we interviewed 3 university men.
Focus group
We created focus groups to understand what messages might be effective in mitigating the negative effects of colorism. Our two focus groups included the university women, which consisted of 3 undergraduates, and the community of Chorkor, which consisted of 20 people.
Experts

We wanted a larger understanding of the context to which decisions were made by our participants, so we further interviewed professionals from various backgrounds. These individuals worked in anti-colorism campaign organizations in Pakistan, India, and Minnesota or were professors in various disciplines at the University of Ghana: the Sociology Department, the Social Work Department, and the Business School. Additionally we interviewed two medical professionals to gain insights to patients that needed medical treatment from the damages of skin bleaching.
Methodologies–How to Interview?
When recruiting, we framed our interview topic as the attitudes and practices of women towards personal care products. This was done because we didn't want to bias participants by already introducing the idea of colorism.
UT
For the structure of questions at UT, we had a total of 6 sections: Introduction, Skin, Hair, Plastic Surgery, Wrap-Up, Demographics. Within the sections about skin, hair, and plastic surgery two subsections, or phases, were created. Phase 1 gauged their level of awareness over colorism; while Phase 2 introduced ideas of colorism and asked for informant's opinions on them.
Originally we had asked both the Asian American and African American population about all sections, but soon realized that plastic surgery was not of relevance for the African American community and hair was not of relevance for Asian Americans. We eliminated those sections respectively as we continued forward with our interviews.
︎ Download UT Interview Protocol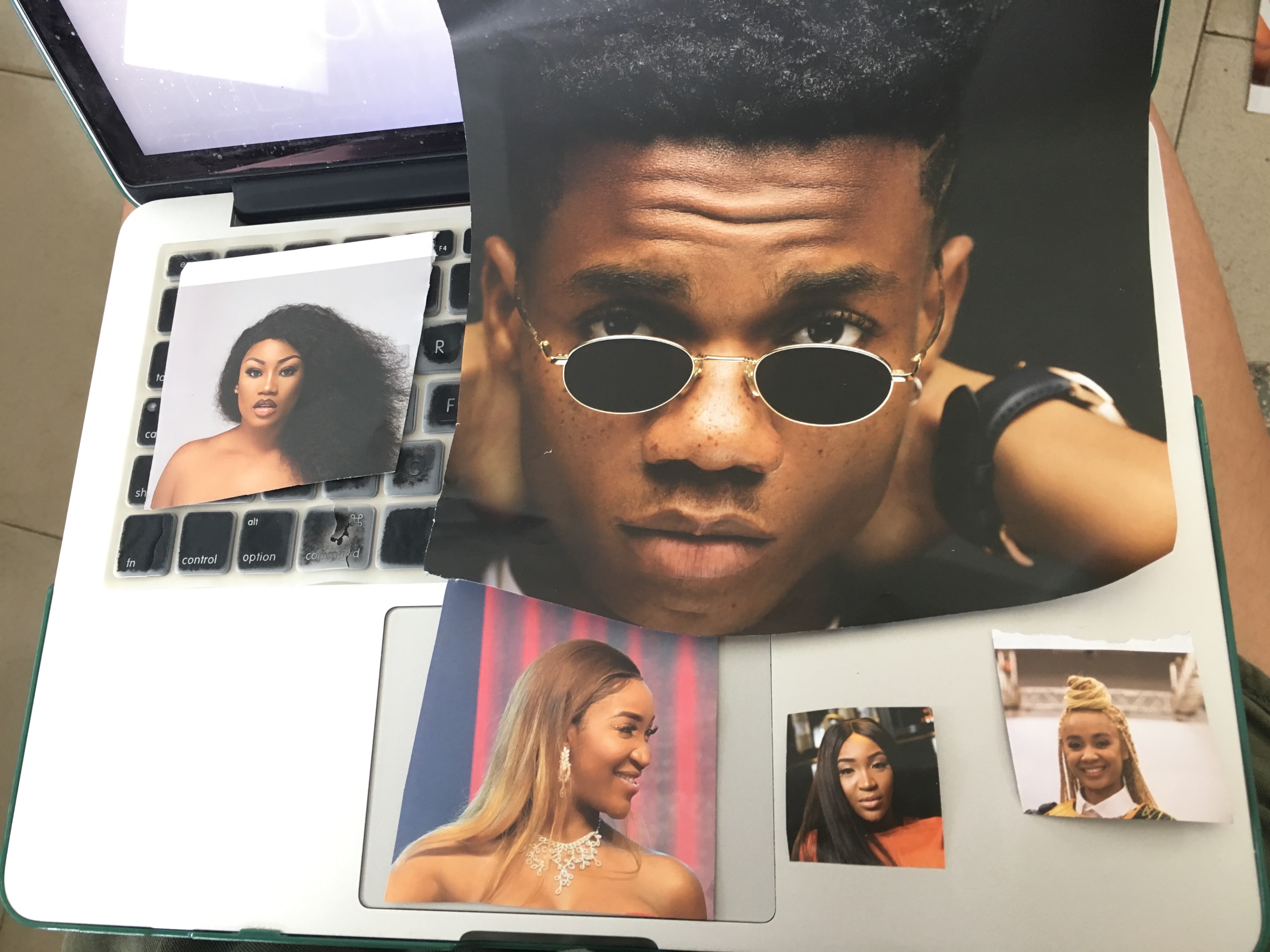 Ghana

The interview guide was taken from UT's but modified for Ghana by working with our international partners, Dr. Boateng, a Social Work Professor at the University of Ghana, and Social Work students at UG, to make the questions culturally appropriate for our Ghanaian interviews. For the local fishing community in Chorkor, we pared down to essential questions because of the use of a Ga speaking interpreter, and recorded responses by hand.
We ended up with a total of 6 sections: Introduction, Picture Activity, Skin, Hair, Wrap-Up, and Demographics. The structure and phase framework of the interviews were the same as UT, except for the picture activity and wrap-up.
In the picture activity we asked for informants to select images that they found beautiful and less desirable. Then probed deeper to ask why.
Similar to the Wrap-Up section for UT, we sought for awareness of the term colorism, and if the participant would change anything about themselves. However, we also added questions to seek participant's awareness on the Ghanaian ban of hydroquinone in skin care products.
︎ Download Ghana Interview Protocol