How can we integrate Waston technologies to improve a corporate traveler's experience?
With: Namrata Gupta, Lisa Barson, Vincent Carson, Annie Xue, Anisha Oommen, and IBM Mentor Claire McCloskey

My Role: Design Researcher, Content Storyteller

Background
According to Global Business Travelers Association, corporate travelers take more than 480 million business trips annually, and 79% of business travelers say that their business travelling experience impacts their overall job satisfaction. While planning for a trip, friends and family have opinions, and it's hard to navigate the enormous number of reviews and social media posts related to destinations. All of this makes it difficult to choose where to go and what to do. People need a better way to discover, plan and book personalized trips using natural language conversation.
The Idea
The Travel Genie is a 20-questions-game experience that helps people with quick, easy, and optimized decisions for meals and events during busy business trips. It utilizes IBM Watson's natural language processor as well as connected data from other platforms and accounts in order to quickly and effectively help you make the best decision for what to do next.

Process
As we were synthesizing pain points from our 12 interviewees, we realized that corporate travelers have an abundance of unique needs and restrictions when it comes to traveling. When designing for this extreme case user, our solutions apply to a broader audience. With corporate travelers, we found that they:
plan for diverse groups




desire to meet client and boss's expectations




default to known chains or room service




want a local experience




want to leave work at work




often deal with last minute changes
Personas
Through our research, we created 2 different types of corporate traveling personas with their need statements that were based from their pain points.
Hill Statement
Corporate travelers need a lot of things. There are frustrations with a business trip that are complex and inevitable — you're busy, stressed, and away from home. With the synthesized need statements of each persona, we boiled it down to a final mission statement, or "hill" to overcome.

Who: A corporate traveler
What: can find a locally recommended place to eat
Value: within in 5 minutes

This was a tall order, so we decided to simplify this complex function into an approachable experience by framing it as a "20 questions" game. This app would not only give simple, easy, and personalized suggestions, but also almost game-ify the travel planning process, with the fun of a guessing genie and the efficiency and ease of a limited back-and-forth conversation.
Prototyping
To test this out, we got together and played the roles out ourselves. A few of us would pretend to be the "guessing genie" that had to give a good, local suggestion for a place to eat, while the others would pretend to be the business traveler planning a client happy hour after work or grabbing a bagel on the way to work. (i.e., "What are you feeling for dinner today?" "Some Korean food would be nice.", etc.)
We found that:
The conversation really only took 3-5 back-and-forth's, maximum
Many of the questions we thought about asking could be done in the AI back-end. For example, instead of our "genie" asking how much time we have to eat or how far we are willing to travel, we could opt to connect to the user's Google Calendar and email.
We needed to increase the usability of a voice assistant, since we were having trouble answering questions in-person to our friends.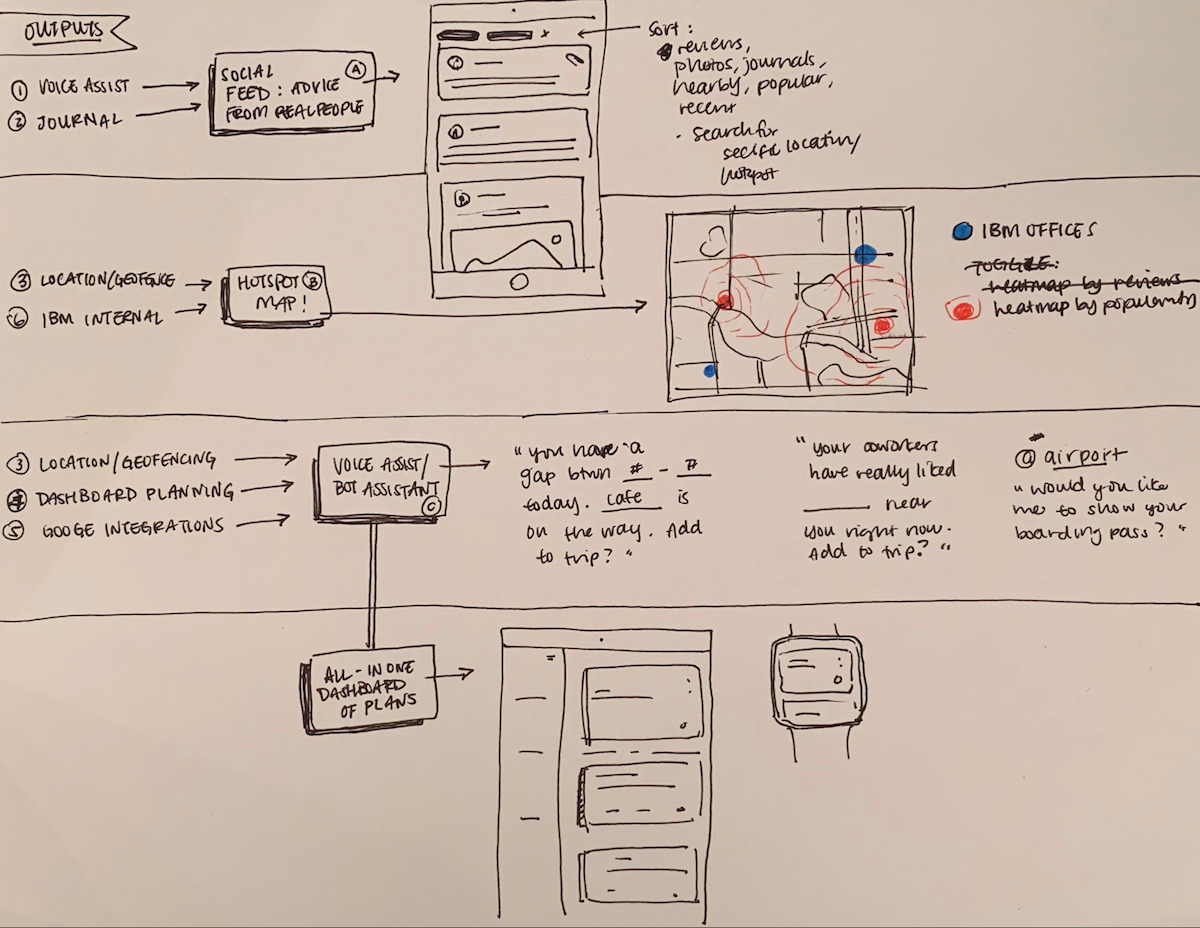 Outcome
We developed The Travel Genie. First, the user must first answer questions about their hometown preferences, giving the Genie hints as to the user's personality as well as determine which establishments are most liked by locals when other users come into town.

Then, the user may prompt the Genie with questions like: "Where can I grab coffee on the way to my meeting?", or the Genie may alert the user when it spots a place nearby, like: "You're passing a great Polish deli nearby that [another corporate traveler] has reviewed on a previous trip. Would you like to make a stop?"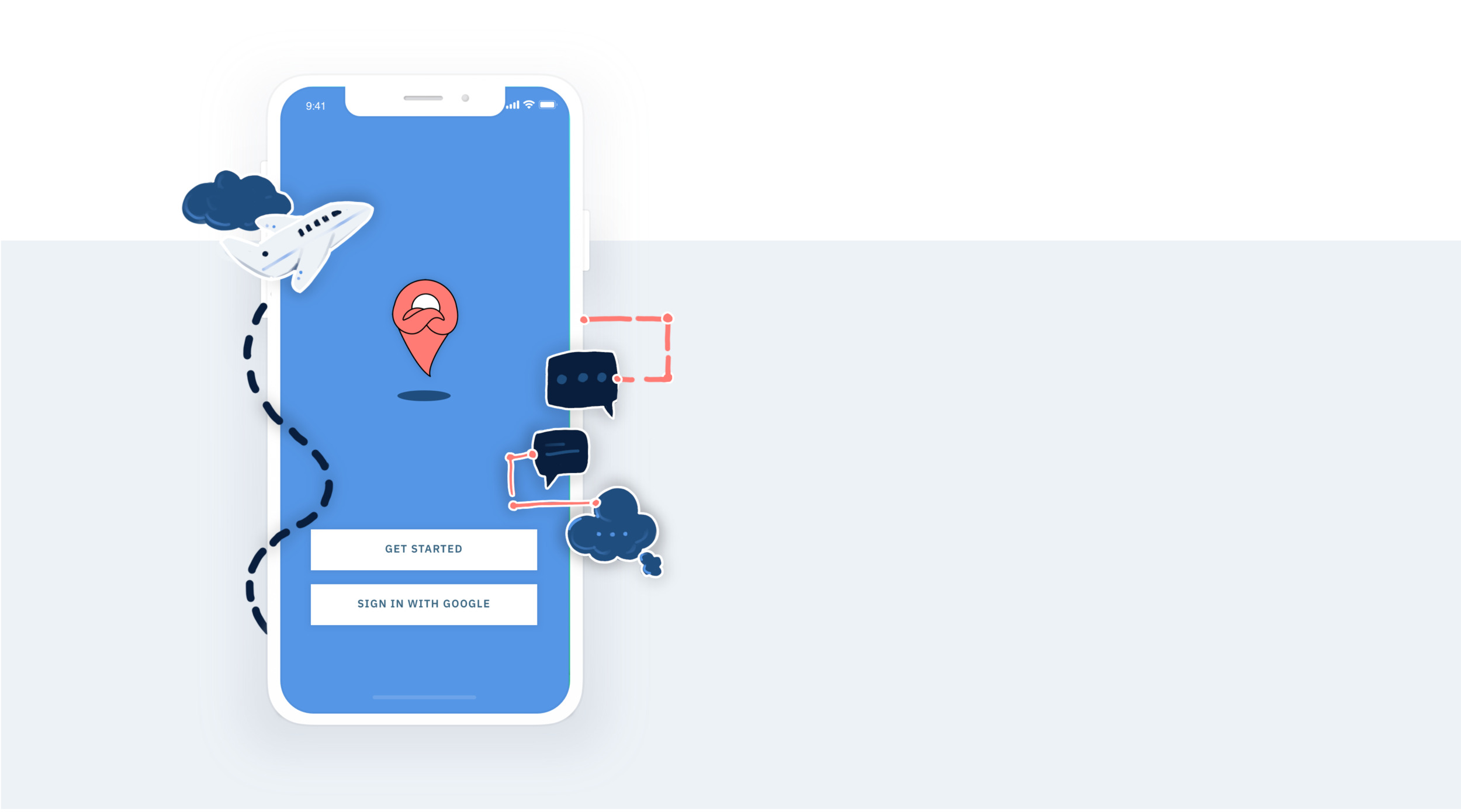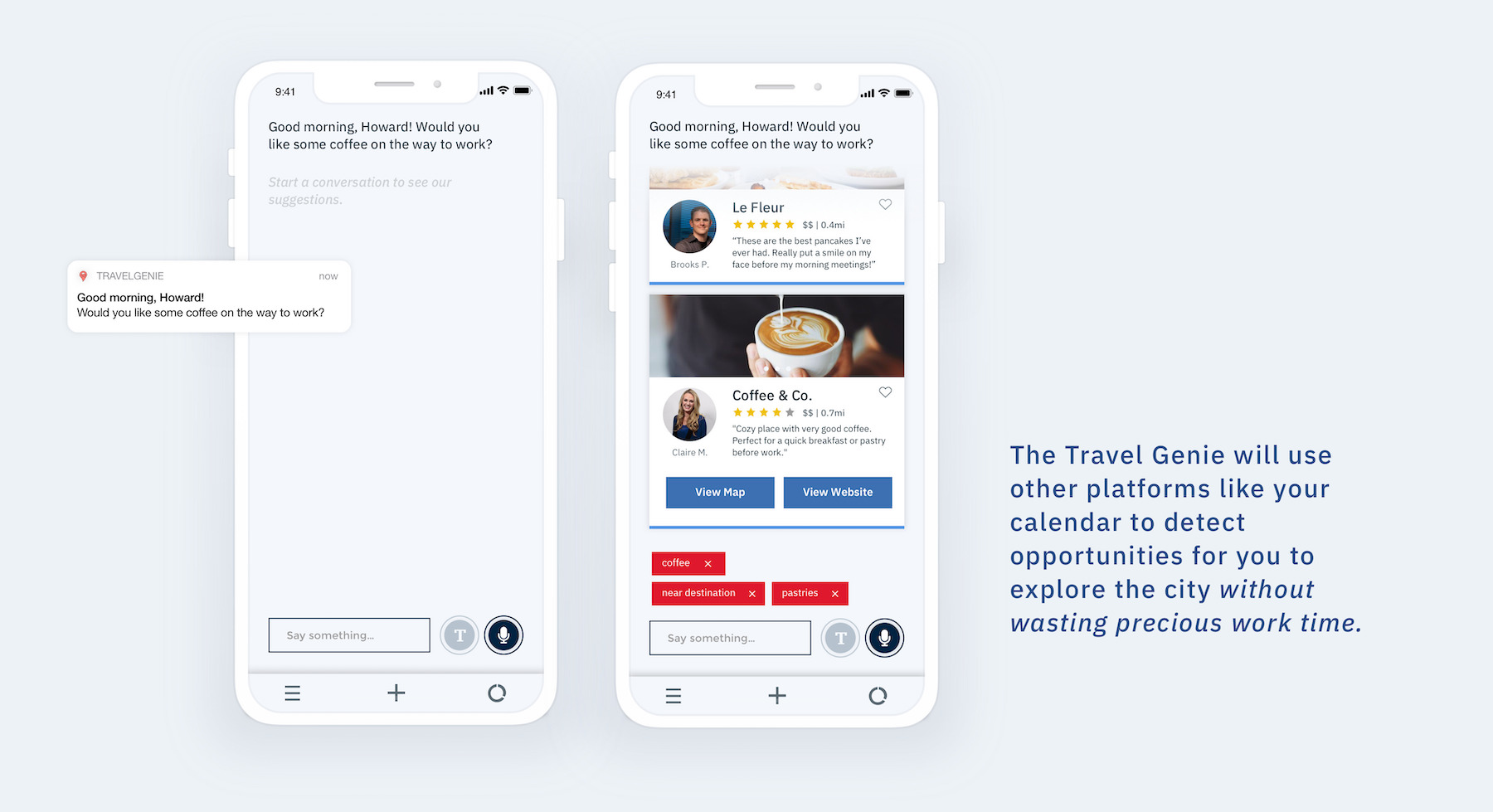 Reflection
Our team went through many rounds of iterations and major pivots. One of the biggest lessons I learned was to not design for myself because there would be an inherent bias that's not based on research.

Overall, I'm proud of the work our team has done with this app because it has the potential to solve business problems by increasing overall job satisfaction for an employee. Furthermore, we left a lot of room for more features to include, allowing this idea to extend beyond this minimum viable product stage.